A Guide to Las Cruces Area Museums
One of the greatest parts about the Las Cruces area is getting to immerse yourself in the rich cultural experiences the area has to offer. Las Cruces has several museums that captivate visitors with their exhibits. Here's a few of our favorites.
Museum of Art
Museum of Art is a highly-interactive museum where visitors can not only explore their current exhibits but also immerse themselves in classes. Their studio programs offer opportunities for children, teens, and adults to learn different methods from local artists. Ceramics, mixed media, painting, and drawing are just a few of the classes you can choose from. The best part? Admission to the museum is always free!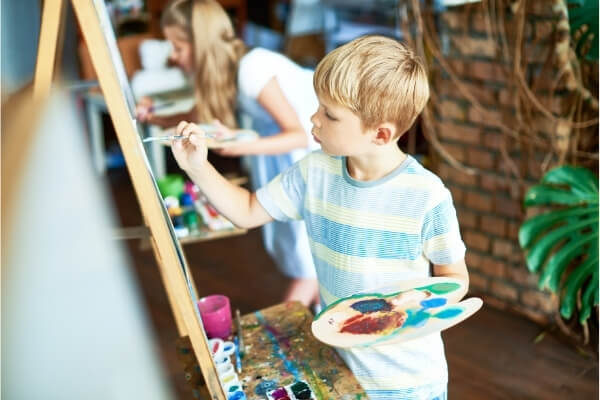 New Mexico Farm & Ranch Heritage Museum
The New Mexico Farm and Ranch Heritage Museum celebrates the rich history of the ranching and farming industries in the Las Cruces region. Interactive exhibits, live demonstrations, and a variety of presentations about crops, cattle, and life in general in early New Mexico make this museum a local favorite. After visiting the sheep and goat barn, visitors can take a glimpse inside a New Mexico colonial-style home and experience life exactly as it was for Spanish settlers in the 1800s.
Space Murals Museum
The Space Murals Museum is out of this world! All puns aside, this museum is one of the coolest around. A massive 1,200,000 gallon water tank adorns the property with a variety of murals that circle the tank, each painting a picture of the progress of the U.S. space program. The museum boasts 6,000 square feet of artifacts, photos, literature, and mock-up of the Mercury capsule. This one's a hit for any aspiring astronaut or outer space enthusiast. Admission is free but don't forget to donate if you like what you see!
University Art Museum
The University Art Museum houses a collection of contemporary visual art as well as the nation's biggest collection of Mexican retablos. The museum aims to offer visitors an enriching experience and encourages engagement with contributing artists. In addition to stationary art, you'll also find performances and public workshops, gallery talks, symposia, and lectures. They have an ever-evolving collection but the museum also houses nearly 1,800 permanent contemporary and modern pieces and a collection of World War 1 and World War II propaganda posters. Their future goals are to add pieces by African American, LGBTQ, female, and other underrepresented artists.
There's a little bit of art for everyone in Las Cruces!