A New Thanksgiving Tradition in Las Cruces
Why make the same old turkey year after year? Give thanks that you can celebrate a NEW way with centuries-old recipes made from local ingredients. And easy enough you can make these delicious dishes in your own RV kitchen.
How about starting with New Mexico Green Chile Enchiladas, and for dessert…Natillas!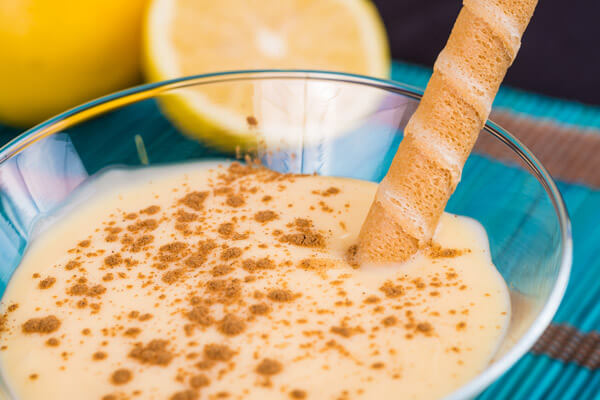 New Mexico Hatch Green Chile Chicken Enchiladas
Hatch is a tiny agricultural town about 40 miles southeast of Las Cruces on I-25. They grow the BEST chilies in the world. And if you are lucky enough to be here when the farmers harvest those chile peppers, you will smell the intoxicating aromas of spicy chilies being roasted in outdoor ovens.
Ingredients
12-16 corn tortillas
2 tbsp. corn oil or lard
1 (3-4 lb) chicken; cooked, meat removed
1 cup heavy cream
1/4 cup minced garlic (optional)
1/2 cup onion (optional)
Salt, to taste
1 cup chicken stock or chicken broth (boil chicken scraps, then strain)
1 cup Hot New Mexico Green Chile (roasted, peeled, seeded, chopped) – Try to get locally grown Hatch chilies
1 lb cheddar cheese; grated
Preparation
1. Flash fry the corn tortillas with the cooking oil, then set aside.
2. Make a sauce with heavy cream, chicken stock, green chile, onion, garlic, and chicken. Set aside.
3. Alternate layers of tortillas, sauce, cheese in a 13-inch casserole dish.
4. Bake uncovered at 375 for 25 minutes. (You may use 4 chicken breasts instead of the cooked whole chicken. In that case, bake at 350 for 1 hour).
Your yummy main dish has all the basic food groups – protein from chicken, dairy from heavy cream and cheddar cheese, and veggies from Hatch green chilies, onion, and garlic.
Natillas for Holiday Dessert
While the enchiladas are in the oven, you can make this traditional Spanish Custard holiday dessert on top of the stove.
Ingredients
1 tsp. vanilla
1/2 tsp. ground cinnamon
4 egg yolks
2 tbsp. milk
3 cups milk
1 cup sugar
2 tbsp. unbleached flour
1 tsp. salt
Instructions
1. Bring 3 cups milk to a boil.
2. In a medium sized mixing bowl, combine sugar, flour, salt, egg yolks and 2 tbsp. milk. Stir til it's a smooth consistency.
3. Add sugar mixture to boiled milk. Cook over medium heat 10 minutes, stirring constantly.
4. Remove from heat. Mix in vanilla.
5. Sprinkle cinnamon on top. Refrigerate. Best when served chilled.
Too Full To Move? You Need Some Exercise!
Here's the cure… Sign up for the Virtual Turkey Trot Run/Walk and be rewarded for your efforts! The Virtual Turkey Trot event can be run (or walked) from any location you choose, even Hacienda RV Resort in Las Cruces. You can run, jog, or walk on the road, on the trail, or on the treadmill.
Included in the Registration
Long sleeve race shirt.
Spectacular FINISHER MEDAL.
Commemorative race bib.
Register for the Virtual Turkey Trot before November 20th to guarantee delivery before Thanksgiving.
Shop for fresh chilies in nearby Hatch to prepare your NEW traditional Thanksgiving dinner!
Book your stay at Hacienda RV Resort – New Mexico's finest RV Park – and give thanks for the view of the mighty mountains while you prepare your Holiday Dinner. Book Now!