Air Conditioned Museums in Las Cruces
Of course it's hot outside. It's summertime! Sensible people get their 10,000 steps in by strolling around air conditioned shopping malls, air conditioned grocery stores, and air conditioned museums.
When you reserve your stay at pet-friendly Hacienda RV Resort, you can tour four interesting air conditioned museums in Las Cruces – all of them are free!
Four Free Museums in Las Cruces
Branigan Cultural Center – Dedicated to engaging visitors in the rich heritage of the Southwest and the world-at-large through artistic, cultural and historical exhibitions and programs, the Branigan Cultural Center hosts changing cultural exhibits, as well as educational programs, classes, and other special events.
Housed in a 1935 Pueblo Revival-style building at 501 N Main Street in Las Cruces, the building is on the National and State Registries of Historic Buildings.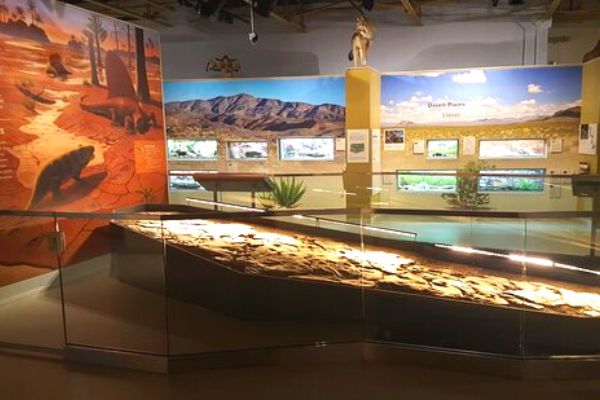 Museum of Art – View juried, invitational, and traveling exhibitions by nationally and internationally known artists. Through the Studio Program, the Museum offers professional art instruction in drawing, painting, ceramics, and other media. Tour the Museum of Art at 491 N Main Street in Las Cruces.
The current exhibit at the Museum of Art is American Impressionism, featuring 41 extraordinary paintings by American painters whose works capture the essence of contemporary life.
Museum of Nature & Science – The Las Cruces Museum of Nature and Science, or MoNaS, inspires curiosity about the sciences, facilitates life-long learning, and promotes stewardship of the natural environment of the Chihuahuan Desert and southern New Mexico.
Located at 411 N Main Street in Las Cruces, MoNaS is about understanding stars, the desert, and ancient fossils. The three primary permanent exhibits are…
Desert Life
Light and Space
Permian Trackways
All of the permanent exhibits are labeled in both English and Spanish.
Railroad Museum – Located in a historic Santa Fe Railroad depot, the Las Cruces Railroad Museum interprets the railroad history of Las Cruces and the impact of the railroad on southern New Mexico.
See miniature New Mexico railroads when you visit the Railroad Museum at 351 N Mesilla Street in Las Cruces.
Relax after Visiting All Four Free Museums in Las Cruces
If you toured all four free museums in Las Cruces in one day, you accumulated enough steps for a week! Take a few more steps when you run around with your doggie in our dog park, then work out in the fitness center, and relax in the hot tub under the stars as you admire the beauty of the desert here in Las Cruces at Hacienda RV Resort. Enjoy all the amenities in New Mexico's finest RV Park.