Dripping Springs and the Century-Old Motel
Just $5 bucks per car load will get you into the Dripping Springs Natural Area, approximately 10 miles east of Las Cruces on the west side of the Organ Mountains. Drive from Hacienda RV Resort to Dripping Springs and hike old stagecoach paths created decades ago to bring folks to the now ruined Dripping Springs Motel.
A Motel Needs Water
It's hard to imagine that the words 'dripping' and 'desert' belong in the same sentence, but they do. Doctors used to tell people that a trip to the Southwest would be good for their health. So, building a motel in scenic desert surroundings seemed like a great idea… but guests need water. Luckily, just such a site was discovered.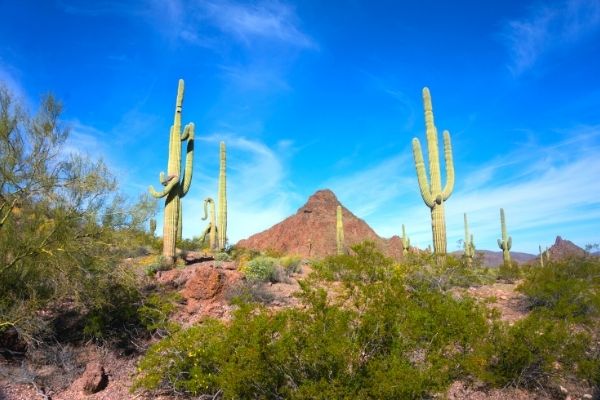 Natural rock springs in the Organ Mountains gush or drip water, depending on the season. In 1892, developers built a pond to collect water for the Dripping Springs Motel. Native American Indian men and boys hauled water by the bucketsful up the mountain for the guests. By 1900, the motel and nearby sanatorium were the talk of the Las Cruces with their coaches full of visitors, lively entertainment, and alleged 'cures.'
Despite attracting such notables as Pancho Villa and Sherriff Pat Garrett, maybe even Billy the Kid, the Dripping Springs Motel lost its luster. By 1917, the owner went bankrupt and the place fell into disrepair.
Visit the Past, Rejoice in the Present
A short drive will take you to the breathtakingly beautiful Dripping Springs Natural Area, where you might see dozens of little hummingbirds on the observation deck feeders. Hike the short, easy trail and see the flora change from desert cacti to fields of wildflowers as you ascend. You'll see lizards, birds, deer, and squirrels… and finally the ruins of the motel and sanatorium, including a barn, a corral, and a watering trough. Take your camera. Dripping Springs is a photographer's paradise.
Then c'mon back to pet-friendly Hacienda RV Resort where the water flows freely from the faucets and you can luxuriate in the hot tub every evening until 10:00pm. History, nature, and soothing waters… all yours when you book your stay at Hacienda RV Resort.