Green Chile Cheeseburger Trail
New Mexico didn't invent the cheeseburger, but we did invent a state-wide driving tour based on the love of America's favorite food combined with a culinary rock star – New Mexico's Hatch green chile pepper.
New Mexico Green Chile Cheeseburger
If you are a chile pepper 'newbie,' start with the food everybody likes – the cheeseburger – and try it the New Mexico way. There are over 100 restaurants on the Green Chile Cheeseburger Trail and three of them are right near Las Cruces and Hacienda RV Resort.
Dick's Café – Since 1959, Dick's Café has been warming the tummies and tastebuds of the Mesilla Valley with the freshest ingredients, including locally-grown Hatch chilies. Visit Dick's at 2305 South Valley Drive in Las Cruces, or call them at (575) 524-1360.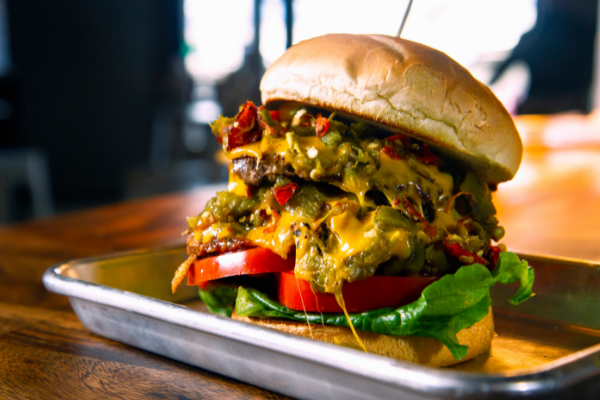 Burger Nook – Family owned and operated Burger Nook has been serving French fries, burritos, tacos, and big, flame-broiled green chile cheeseburgers since 1983. The secret of their success is simple – good food, great prices, supreme cleanliness, and fresh New Mexico chilies. Visit Burger Nook at 1204 South Madrid Avenue in Las Cruces, or call them at (575) 523-9806.
Rockin' BZ Burgers – Rockin' BZ Burgers in nearby Alamogordo says, "This is the burger you have been waiting for!" Rated as one of the 10 Best Green Chile Cheeseburgers by USA Today, they offer a totally dee-lish, never frozen, hand-made, high quality ground chuck Angus patty on a made-fresh-daily potato bun. With New Mexico green chilies, of course. Visit Rockin' BZ Burgers at 3005 N White Sands Blvd in Alamogordo, or call them at (575) 434-2375.
Are you hooked on Green Chile Cheeseburgers already? Check out the entire Green Chile Cheeseburger Trail and see where your cheeseburger adventure leads you.
Visit Las Cruces
Bring your family, bring your doggies. When you visit Hacienda RV Resort in Las Cruces, you'll want to try making a green chile cheeseburger on your grill while enjoying the spell–binding views of the Organ Mountains. New Mexico really is the Land of Enchantment!
Experience the cool night air of the desert and the fire of green chilies when you reserve your stay at Hacienda RV Resort.