Group Camping & RV Rallies in New Mexico
Hacienda RV Resort is widely known for its rugged desert beauty, great family fun, convenience, and its close proximity to the heart of Old Mesilla, where the Gadsden Purchase was signed, making New Mexico a part of the United States in 1854. It's also just 45 minutes from El Paso, Texas
But did you know that it's also a great place to host RV rallies and group camping events? It's not that surprising to locals who have come to savor and cherish the breathtaking vistas of the nearby Organ Mountains, while relaxing on our large patio with wood burning fireplace.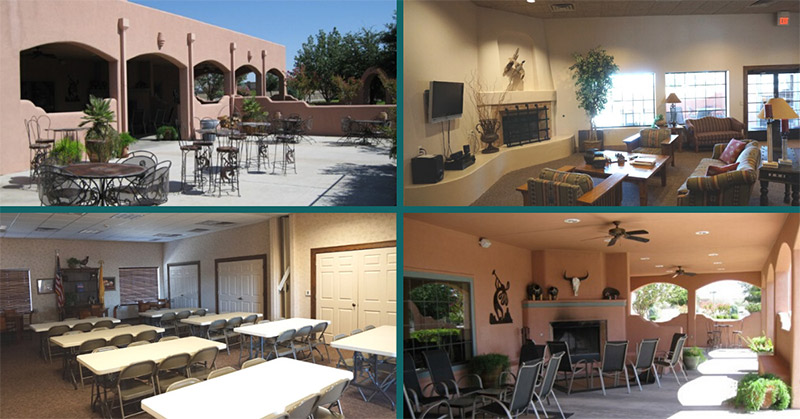 The Best Weather Around
Las Cruces elevation is approximately 3,900 feet. The average summer temperatures range from the 90's during the day to the 60's at night, while average winter temps range between the mid 50's and 60's during the day and the lower 30's at night.
Location! Location! Location!
Immediately located off the I-10, exit 140 in Las Cruces, New Mexico, and mere minutes from downtown, we're easily accessible. El Paso is a short drive away-45 minutes, and our amenities are second-to-none:
Community clubhouse with tables and chairs for your RV rallies
Large events room for your special events
Bright and clean laundry room facilities
Free cable and high speed Wi-Fi
Private showers/dressing rooms with hair dryers
Fully stocked gift shop
Hacienda RV Park welcomes club rallies and special events such as birthday parties or showers. Better yet, contact management to learn about our special discounts for larger groups.
Rent a space in our clubhouse for your next meeting, RV rally or group camping event. Contact us today and reserve your space: (888) 686-9090.
---
About Hacienda RV Resort
Hacienda RV Resort is located in Las Cruces, New Mexico and offers an amazing view of the rugged beauty that is the New Mexico landscape. Book your stay, today and savor the very best of our group camping amenities.