Harvest Wine Festival in Las Cruces
Just a little time left to reserve your stay at Hacienda RV Resort so you can attend Las Cruces' premier wine event, The Harvest Wine Festival on Labor Day Weekend, September 3 – 5, 2022 at the Southern New Mexico State Fairgrounds.
Every year The Harvest Wine Festival brings you hundreds of wines from New Mexico's finest vineyards, and this year is no exception. Sample more than 200 wines and take home a bottle or a case of your favorite.
Harvest Wine Festival
Each Harvest Wine Festival Tasting Ticket includes a commemorative wine glass for unlimited wine sampling or the purchase of a glass of wine, $5 off any bottle of wine at the Festival, and special festival pricing on wines by the bottle and case. Get Wine Festival tickets here.
C'mon out to the Fairgrounds at 12125 Robert Larson Blvd, Las Cruces NM 88007 from 11:00am – 6:00pm daily and enjoy sensational live music, delicious foods, fine arts and crafts from local artisans, and lots 'n lots of wine. Salud!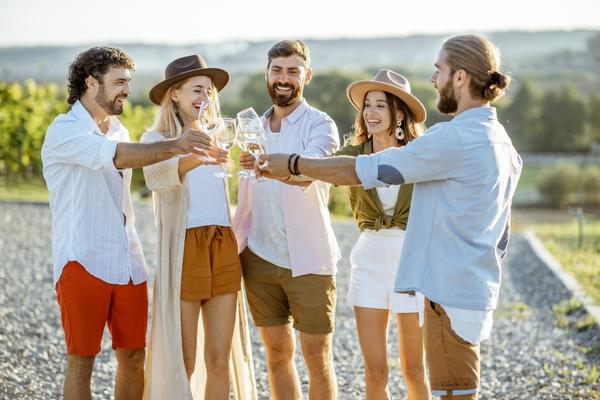 Make Hacienda RV Resort your Home Base for Wine Tasting
New Mexico is loaded with famous wineries that offer year-round tours and tastings. Many of them are near Las Cruces. No matter what time of year you visit Hacienda RV Resort, you can create your own wine tour by visiting these nearby vineyards and wineries in the Mesilla Valley.
Amaro Winery – Family-owned winery specializing in tastings of dry & sweet varietals with local foods & events. 402 S Melendres Street in Las Cruces
Fort Selden Winery – Beautiful vineyard with wonderful tastings at 1233 Fort Selden Road in Las Cruces
Heart of the Desert Winery – Pistachio ranch and winery at 7288 US 54 in Alamogordo
La Viña Winery – New Mexico's oldest winery is at 4201 NM 28 in Anthony, NM
Rio Grande Vineyard and Winery – Relax on the patio with world class wines at 5321 NM 28 in Las Cruces
Bring a bottle or two back to Hacienda RV Resort after the Harvest Wine Festival or your do-it-yourself wine tour and enjoy the magic of moonlight over the Organ Mountains. Labor Day Weekend is always busy, so book now!