Here Kitty, Kitty…Bobcats in Las Cruces
Bobcats are carnivores that prey exclusively on small creatures like gophers and squirrels. Just like your house cat, bobcats mostly snooze all day, ignore you, and come out at night to catch rodents. These beautiful red-orange felines are about 2 ½ times the size of a house cat (about 25 pounds) but their bobbed tails are a bit shorter than your kitty's tail.
While people sleep, bobcats roam at night. If you hope to get a picture of one of these elusive animals, plan a hike for dawn or dusk. Occasionally they are spotted in residential areas, but more than likely will be found by a desert trail patiently waiting for a small animal to emerge from its burrow.
If you are lucky enough to spot one of these tuft-eared cats, do not attempt to catch it or kill it. Bobcats are protected furbearers in New Mexico with an established season for hunting and trapping from November 1 to March 15.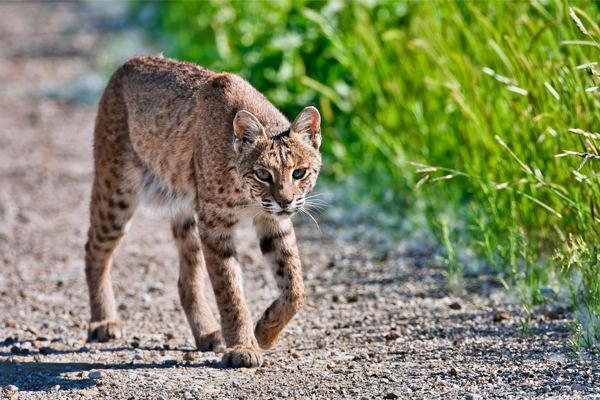 Dogs 'n Bobcats
Keep your little doggie on a leash while you are out looking for bobcat pics. Bobcats are not known to come after humans or large pets, but your Pupper might scare the bobcat off by barking. On second thought, better leave Little Fifi or Fido in the RV while you are out looking for Felis Rufus.
Fun fact! Bobcats step with their back feet exactly into the paw prints of their front feet. If you are tracking an animal based on its footprints, you may think you've discovered a two-legged cat!
Meanwhile, Back at Hacienda RV Resort
C'mon back to Hacienda RV Resort after your evening bobcat expedition. Recent visitor Brandon H had this to say on Google Reviews… "This place was very nice, clean and there was an awesome hot tub that I enjoyed after a long day of hiking. Bathroom was clean and nice hot shower. There is an RV parts store within walking distance as well as an excellent pizza place where we ate. Dog run was nice for our dog as well."
What are you waiting for?
Enjoy hiking, relaxing in the hot tub, and a chance to photograph one of nature's most beautiful animals (Bobcats) at Hacienda RV Resort.