Hike Soledad Canyon Day Use Area
Hike an easy loop trail in Soledad Canyon to discover scenic views of the Organ Mountains and the Mesilla Valley, crumbling ruins, and an occasional waterfall. The loop trail is in Soledad Canyon Day Use Area, just 13 miles east of Las Cruces. So grab your hat, a bottle of water, and hop in the car. Have an easy outdoor adventure and be back in time for dinner.
Soledad Canyon offers a nice gentle hike on well-marked trails, and there are several paths you can take. It's only 3.4 miles round trip and at the end of the hike you are rewarded with a trickle of a waterfall (if there has been a recent rain) and an old rock house that is nearly collapsed. The trail is dog-friendly.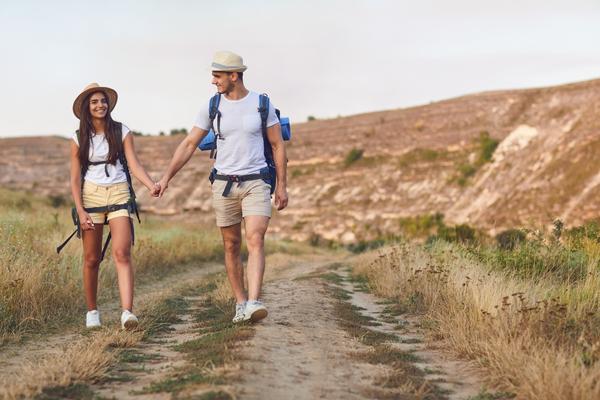 Getting to Soledad Canyon
The trail is easy to find! Just east of Las Cruces, Soledad Canyon Day Use Area is at 13300 Soledad Canyon Road. Take Dripping Springs Road and turn right on Soledad Canyon Road, and follow it to the end. That's all there is to it! Parking is free in this popular hiking and horseback riding trail. The Canyon is open year-round and there are no fees. One more thing…find a restroom before you go – there are no 'facilities' in Soledad Canyon.
Hiking at Hacienda RV Resort
Walking, strolling, hiking – it's all good exercise and with the ruggedly beautiful scenery right outside your RV, there's every reason to get outdoors and enjoy nature. If your doggie hasn't had enough hiking at Soledad Canyon, walk him to the fenced Dog Park and let him dash around some more. And if you are all tuckered out from walking, strolling, and hiking in the Great Outdoors, come relax in the Hot Tub. It is open every evening until 10:00pm.
There's more to love at Hacienda, including the panoramic views, the friendly service, the expansive RV sites, the free WiFi, and the affordable rates at New Mexico's finest RV Park – Hacienda RV Resort.