Hot Tub and Desert View by Moonlight
Why 'chill out' in our hot tub? Relaxing in warm water is a great way to relieve stress, improve your mood, help you feel better, and fall asleep more easily. Just imagine the luxurious sensation of sitting in steamy hot water, outdoors in the cool evening, under a starlit sky. The newly-reopened hot tub is ready for you from 7:00am – 10:00pm. Relax at the end of the day and enjoy the hot tub and the dramatic desert scenery by moonlight.
Everybody is getting into the hot tub spirit… Here's what Ron H had to say on Facebook, "Great place! Great location! They do things right here. Love that the hot tub is open this year!"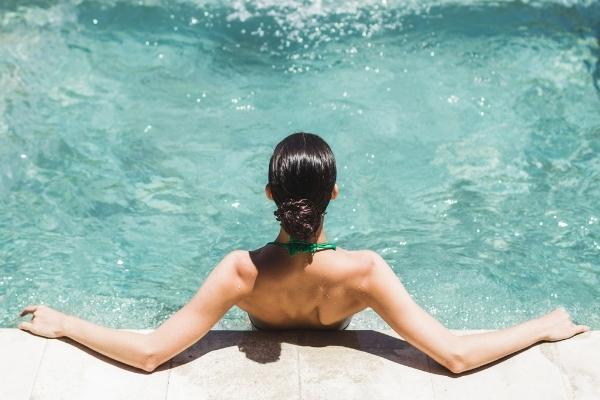 Pet-Friendly Means Cat-Friendly Too!
Sure, we have a seriously BIG dog park that's long enough for really big dogs to run around in and get exercise. It's pretty too…you might even find fossils in the rock walls if you look closely. But what about your cat? Frankly, your cat doesn't care about the pet park, or the hot tub either, but we care about your kitty.
Here's what Deb B had to say about it on Facebook, "Our cats loved the treats they provided…what a pleasant addition to our stay."
Hike Picacho Peak and Come Back to the Hot Tub
Leash your doggie and hike all 4959 feet of Picacho Peak – it's just a few miles northwest of Las Cruces. Leashed dogs are permitted at Picacho Peak State Park. The trail is great for hiking, mountain biking, and horseback riding. You'll see wildflowers, wildlife, and spectacular views of the Mesilla Valley and Organ Mountains.
Put on your sturdy shoes, grab a hat, and a bottle of water. Load your Pupper in the car and get on Interstate 10…
Then – Take exit 135 to W. Picacho Avenue (Highway 70 East) and travel east for approximately 2.5 miles. Turn north on Picacho Hills Drive. Continue on Barcelona Ridge Road after one mile. Travel one more mile, and turn north on Anthem Road. Follow this for one mile to its end. Turn north on Loop Road. (unpaved). Follow this for 1.5 miles to the trailhead parking lot.
When people and pets get tuckered out from hiking, c'mon back to Hacienda RV Resort and enjoy the soothing, healthful waters of our steaming hot tub.
Request Your Stay at Hacienda RV Resort – the Ideal Mountain View Retreat