It's Time to Spring Clean Your RV!
Your RV can use a little makeover after cold winter months. Just as it's a smart idea to winterize your rig for chilly adventures, having it spic-and-span for upcoming spring trips is also a must. We'll tell you just what to do for an effective and easy spring cleaning that will have you traveling without a care in the world. At least when it comes to a spotless RV!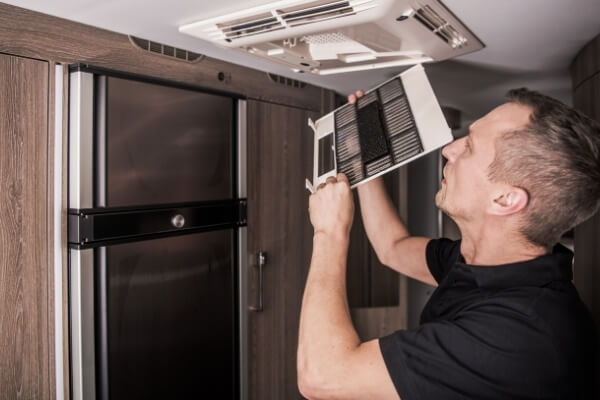 RV Spring Cleaning 101:
The Easy Path to a Shiny Rig From the Inside Out
Inside Checklist
Air it out!
Don't be surprised by stale smells after winter. With the cold, it's likely been more closed than opened. But since you don't want your rig to smell flat forever, the first thing you have to do is let the air swirl inside it. Open all windows and doors and keep it that way throughout the whole cleaning process.
Clean up any stale debris from surfaces
Dust and debris will accumulate on surfaces regardless of what you do. And you know particles in closed spaces mean sniffles and sneezes, so it's best to be careful. Grab a cloth and dampen it with water or your favorite multi-surface cleaner and give all surfaces (including behind furniture and electronics) a full sweep.
Get those windows sparkling
Traveling is no fun when the stains on your windows distract you from the view. Make sure they're squeaky clean without streaks by using a window-cleaning spray, or by using a homemade window cleaning solution that's one part distilled vinegar and 10 parts water.
To avoid streaky cleaning, you can wipe the windows with a lint-free cloth. If that's not available, use a paper towel, instead.
Clean the floor. Diligently.
First, vacuum throughout your RV's floor and then move on to mopping.
Shake all of your pillows and blankets (outside, please!)
If you don't feel like they need a proper wash just yet just shaking off the dust outside and bringing them back in will suffice.
Give your HVAC system a thorough inspection
Cleaning your rig is no use if a dirty HVAC system is sure to bring all of those germs back in. Check your filters, and make sure they're clean and working well.
At the end of the day, spring cleaning the inside of your RV isn't all that different from giving any home a good old scrub after a month on vacation, is it?
But the work isn't over yet. You still need to check the outside of your rig for your spring cleaning to be worth it.
Outside Checklist
De-winterize and sanitize
This step is essential for spring preparation. You need to dump all of the antifreeze out of your plumbing system. You can do it by opening all faucets and letting them run until clear.
For sanitizing, mix ¼ cup of bleach for every 16 gallons of water in your tank. Pour it into the tank and follow by filling the tank completely with potable water. This will let the solution run through and clean the entire system.
Let this water sit there for 12 hours. After 12 hours, open all faucets and let the water flush out the mixture until no smell of bleach remains.
Cover the cracks (if there are any)
Check the seals and seams on your roof, windows, and storage compartments. If there are any cracks, apply sealant to block them.
Safety first
For carefree trips, double check your tire pressure, as well as your RV's sidewalls and tread to make sure everything is good to go.
Get rid of the grime, and you're all set!
Wash and wax the exterior of your rig for the last touch before you head out for spring.
---
Speaking of which…where are you headed this spring?
There are many places to head to, but we happen to think the best place to enjoy spring is in beautiful Las Cruces. Here at Hacienda RV Resort, we have everything you need, and more. Check out our rates and amenities!