Las Cruces National Monuments, Part 2 – White Sands and Prehistoric Trackways
Las Cruces – like no other place on Earth, where you'll find the White Sands and Prehistoric Trackways National Monuments.
White Sands
Rising from the heart of the Tularosa Basin is one of the world's great natural wonders – the glistening white sands of New Mexico. Great wave-like dunes of gypsum sand cover 275 square miles of desert, creating the world's largest gypsum dune field. White Sands National Park preserves a major portion of these unique dunes, along with the plants and animals that live there.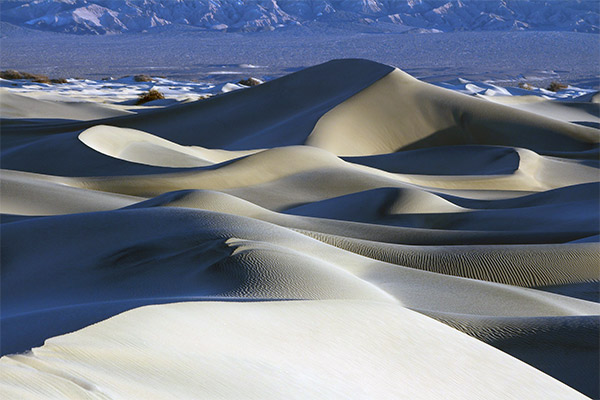 Thousands of years ago, giant animals roamed the shores of an ancient lake that covered what is now White Sands National Monument. Columbian mammoths, giant sloths, and dire wolves lived on the muddy banks of Lake Otero, leaving behind their footprints. Today evidence of the path they walked is preserved in the sediments of Alkali flat. Prints made of gypsum crystals, dolomite and sand are visible at the surface, and some tracks go on for two miles.
Modern animal species adapt, survive, and even thrive in these harsh conditions today. If you look closely, you can see their tracks in the sand, alerting you their presence. And while it may be hard to imagine, there are over 800 species of animals that call White Sands their home.
Many exciting activities at White Sands National Monument, including…
Sunset Stroll
Bring your camera. The Sunset Stroll is a leisurely, ranger-guided stroll through the gypsum sand dunes. It is a splendid opportunity to experience the dunes first-hand while learning about the uniqueness of the geology, plants, and animals. The stroll is timed to end at sunset, providing a panoramic view of the sun setting over the mountains.
Native Plant Garden Tour
Self guided, easy walking tour! Although White Sands is located in the arid Chihuahuan desert, it is also a place of amazing life and diversity. Click to discover more about the native plants and animals of White Sands.
Lake Lucero Tour
Monthly, ranger-guided hiking tour of moderate difficulty. See thousands of exposed selenite crystals and discover why Lake Lucero is 'the birthplace of the dunes.'
(Please note – due to the current national emergency, some services may be temporarily unavailable. Check before you go.)
Prehistoric Trackways
Unbelievable, but completely true. The harsh, desert environment of Prehistoric Trackways National Monument was once a lush, tropical forest. The trees were mostly an early conifer called Walchia. They were covered with short needles on fronds, and looked very similar to today's Norfolk Island pine.
Here you'll find Paleozoic Era rocks with tracks that were discovered on June 6, 1987 by Jerry Paul MacDonald. The rocks are composed of sediments deposited about 280 million years ago, before the age of the dinosaurs. These rocks contain major deposits of fossilized footprints made by numerous amphibians, reptiles, insects, and crustaceans, as well as plants and petrified wood.
This initial site was named the "Discovery Site". It is one of the best places in the monument for visitors to see fossilized tracks. Jerry MacDonald excavated three long trackways, carrying over 2500 slabs out from the site on his back.
(Please note – Although hiking is permitted at Prehistoric Trackways, there are no services and the viewing of Trackway fossils is limited. At this time, there are no developed sites interpreting the fossils. To preserve them for ongoing and future scientific study, some trackway fossils have been removed and transported to the New Mexico Museum of Natural History and Science in Albuquerque, making up the Jerry MacDonald Paleozoic Trackways Collection. Anyone interested in viewing these fascinating tracks can do so by visiting the Museum, which offers public tours of their Geoscience Collection, including the Trackways Collection, by reservation.)
Millions of years of geologic upheaval created white sands from tropical forests, and left the fossilized footprints we see today. Nothing you imagine can actually prepare you for the tales these ancient mighty rocks have to tell.
Request your stay at Hacienda RV Resort for an unforgettable adventure!