Las Cruces Water Tank Murals
More than 40 years ago, a talented high school artist named Tony Pennock decided to beautify Las Cruces by painting murals on the sides of the dozens of two-million gallon water tanks that dot the landscape and supply people, animals, and agriculture with life-giving water. Now, his water tank murals can be seen in many locations in and around Las Cruces, each one utilizing the natural colors of earth and sky to depict the march of history from ancient times to the present.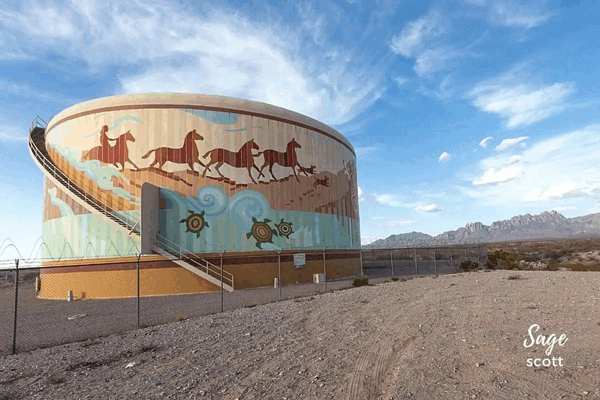 Where to Find Three Popular Water Tank Murals
Reserve your stay at Hacienda RV Resort, New Mexico's finest RV Park to see these breathtaking murals. Mr Pennock has painted at least 10 water tank murals in Las Cruces and his public art installations can be seen worldwide. Please note – all of the water tanks are behind barbed wire fencing to keep the public from getting too close. Bring your camera and enjoy these three water tank murals from a safe distance.
Jornada del Muerto (Route of the Dead Man) – This is the first mural Mr Pennock painted as a 17-year old high-school student. Its theme is the Conquistadores' 100-mile journey through the Chihuahuan Desert from Las Cruces to Socorro. It is located at the intersection of East Griggs Avenue and Triviz Drive.
Agua Fria Water Tank Mural – Find it on the east side of North Telshor Boulevard, south of Spruce Avenue. This mural spotlights the Rio Grande River and the important role it plays in our region.
Journey to Tlalocan – Water was important to the Native Americans who first lived in Las Cruces and Tlalocan is the Aztec Paradise, home of the God of Rain. See this water tank mural at South Sonoma Ranch Boulevard east of its intersection with Canyon Point Road.
More of Mr Pennock's water tank murals can be found in residential neighborhoods, on
Galisteo Loop, and on a water tower in nearby Radium Springs. See them all when you book your stay at Hacienda RV Resort.
We're looking forward to meeting you real soon!