No space? No problem! Travel Fitness in Your RV
Hiking and biking through the rugged trails of the Organ Mountains will give you puh-lenty of exercise. But what if you want to stay close to home?
Luckily for you, we have great ways to keep fit right here at Hacienda RV Resort in Las Cruces. Play around with your doggie in the dog park, go for a jog around our beautiful resort, or splash around in the spa.
But what about exercising in your RV? Even if your home on wheels doesn't have its own running track, you can still utilize the space you do have to maintain your physique or even improve it. Try these exercises and really feel the burn…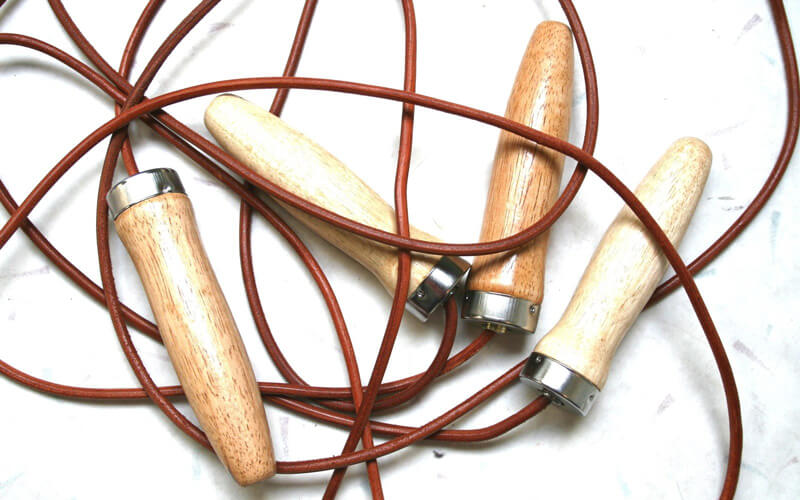 Jump Rope
Jump ropes are portable, excellent for cardiovascular exercise, and can be used on your outdoor RV patio. For travelers who take their jumping seriously, try an interchangeable, weighted jump rope system.
Skip Fit
This extremely lightweight cardio tool will bring you back to your playground days. Attach the cuff around one ankle, and skip while a ball swings beneath your other foot. This is a good solution for indoor RV workouts where jumping rope might prove hazardous. With the Skipfit, there's no chance you'll accidentally lasso the TV.
Yoga Mat
RV flooring isn't the best surface for your yoga practice, but who wants to cart around a full-size mat? Hence the advent of super-thin travel yoga mats. Use our free hi-speed WiFi to find your favorite yoga videos and bend yourself up like a pretzel.
Synergee Slider
Remember Twister? This is kind of like that. Synergee Core Sliders are perfect for fun and challenging full-body workouts. The sliders introduce a balance and stability challenge to every movement, which forces you to engage your core muscles and results in your abdominals becoming stronger (and better-looking) than ever!
FitDeck Cards
FitDeck cards help people create interesting, always-changing workouts. The cards feature illustrations and instructions for everyone (seniors, athletes, new moms) using all types of equipment. Travelers should opt for the bodyweight deck (no equipment required). To create a new workout, simply shuffle and deal 12 cards. Also available as an app, but the cards are more fun.
Give us a call at (575) 528-5800 or click here to request a reservation at Hacienda RV Resort.