On a Dark Desert Highway at the Chihuahuan Desert Nature Park
You may or may not feel the cool wind in your hair, but one thing is for sure, the Chihuahuan Desert Nature Park will blow you away with its other-worldly scenery.
Take the Highway to the Chihuahuan Desert Nature Park
Put your camera in your car and do this…
1. From I-25 in Las Cruces, head east on Hwy 70
2. Take the Mesa Grande Road Exit (at Oñate High School)
3. Make a U-turn under the highway to head west on the frontage road
4. Turn right (north) on Jornada Road
5. Follow Jornada (say Hor-na-duh) Road north for about 6.4 miles
6. Turn left just before the Chihuahuan Desert Nature Park entrance sign
7. Take the entrance road west to the Nature Park and trail head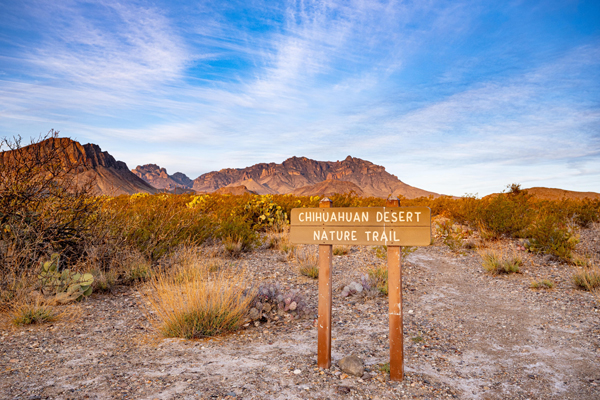 Experience the Beauty of the Largest Desert in North America
Reserve your stay at Hacienda RV Resort in Las Cruces and be sure to give yourself enough time to take a little side trip to the Chihuahuan Desert Nature Park. It's only 17 miles away. Once there, you'll see spectacular views of the Organ Mountains, San Andres Mountains, and Jornada Basin from this rugged – yet visitor friendly – Nature Park.
The Desert Nature Park offers an easy 1.2 mile trail where even the most casual visitor can see many of the 300 species of cacti found there. A short ADA trail is available too, so everyone can get a glimpse of jackrabbits, cute kangaroo rats, and spade-foot toads.
The vast 935-acre landscape of the Chihuahuan Desert Nature Park has been sculpted through time by wind, water, and earthquakes. Although native people lived in this harsh environment for thousands of years – domesticating corn and squash, hunting, and creating pottery – their settlements have long since disappeared, leaving only pot sherds and stone tools behind.
The earliest people who inhabited this desert didn't have a hot tub to relax in, but you do. The hot tub at Hacienda RV Resort is open until 10:00pm every evening so you can relax after your day of discovery in the desert.