Petrified Wood at the Zuhl Museum
In 1970, two vacationers from New York City saw a log of petrified wood and became intrigued by it. They shipped it back to The Big Apple, cut it into small pieces which they then polished, and began a lifetime quest for petrified wood, fossils, minerals, and rocks. Their collected pieces now grace private homes and museums worldwide. One such museum is named for them – the Zuhl Museum at the New Mexico State University.
Reserve your stay at Hacienda RV Resort and visit the Zuhl Museum at 775 College Drive in Las Cruces. It is part art gallery, part natural history museum, and 100% beautiful. You'll see crystals, quartz, fossils, minerals, geodes, and original art works inspired by these treasures from the earth.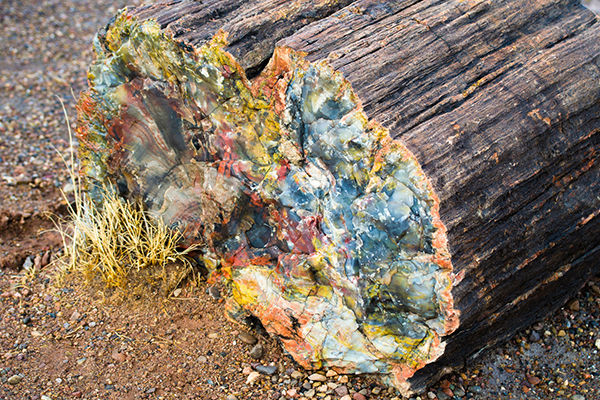 What is Petrified Wood?
Petrified wood comes from a fossilized tree. It forms when plant material is buried by sediment and protected from decay. Then, groundwater rich in dissolved solids flows through the sediment, replacing the original plant material with silica, calcite, and pyrite.
Find Your Own Petrified Wood
Although petrified wood can be found in many scattered locations in New Mexico, Rockhound State Park in nearby Deming is only one of two state parks in the USA that allows and encourages visitors to keep the treasures they find. You are most likely to encounter jasper and thunder eggs – geode-like hollow rocks that have been filled with mineral deposits. Found in flows of rhyolite lava, thunder eggs can be as big as softballs! Take a little 60-mile side trip on I-10 W to Rockhound State Park at 9880 Stirrup Road in Deming to search for fossils, jasper, and thunder eggs. Maybe even petrified wood!
Find Your Peace at Hacienda RV Resort
Every trip to the desert, a museum, and the mountains brings a renewed sense of connection with nature and a visit to see petrified wood is no exception. Come back to Hacienda RV Resort at the end of your day trip and refresh yourself in the swirling waters of the hot tub. Walk your doggie and marvel at the starry skies above your campsite.
Come see us – you know you want to!