Red, White & Blue Recipes for the Fourth of July
Let freedom ring in your RV this Independence Day. Freedom from complicated recipes, freedom from heating up the kitchen, and – best of all – freedom from cleaning up.
Put on your red, white and blue t-shirts and fire up the grill for fabulous, easy-to-make recipes for Fourth of July. Find everything you need for a festive Fourth at Sprouts Farmers Market, right here in Las Cruces.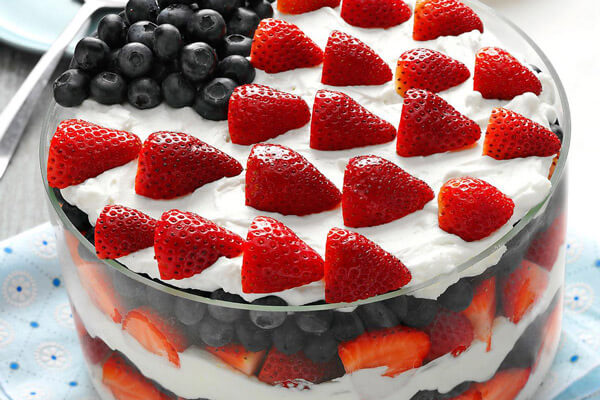 Red, white, and blue potato skewers with Ranch Dressing
Did you know that potatoes come in colors? Now you do! All natural too.
Ingredients
1 tsp. Salt
1/2 cup Sprouts Extra Virgin Olive Oil
12 Bamboo Or Stainless Steel Skewers
6 each med. Red, White And Blue Potatoes (From Sprouts Baby Medley Potatoes Bags)
Ranch Dressing, to serve
Juice Of 1 Lemon
3 Cloves Garlic, Minced
Directions
If using bamboo skewers, soak in water 30 minutes before grilling.
In a large plastic freezer storage bag, combine garlic, lemon juice, salt and olive oil.
Wash potatoes and cut in half.
Add to garlic-olive oil mixture and marinate 15 minutes, up to an hour.
Preheat grill at medium heat, about 450ºF.
After marinating, thread potato halves onto skewers in a red, white and blue pattern, with one of each color potato per skewer, skin sides all facing the same direction.
Remove skewers from marinade and place on grill, cut side down.
Grill 15–20 minutes or until fork-tender, flipping to skin side down in the last five or so minutes.
Don't grill them skin side down too long, or you'll lose the patriotic color! Remove from heat and serve with ranch dressing.
While you are shopping for farm-fresh veggies, be sure to pick up your favorite steaks, chops, burgers and hot dogs. Throw them on the grill too. Don't forget the buns!
Go back to the produce department for fresh strawberries and blueberries for a patriotic dessert…
Ingredients
2 packages (8 ounces each) cream cheese, softened
1/2 cup sugar
1/2 teaspoon vanilla extract
1/2 teaspoon almond extract
2 cups heavy whipping cream, whipped
2 quarts strawberries, halved, divided
2 quarts blueberries, divided
Directions
In a large bowl, beat cream cheese, sugar and extracts until fluffy. Fold in whipped cream. Place a third of the mixture in a 4-qt. bowl. Reserve 20 strawberry halves and 1/2 cup blueberries for garnish.
Layer half of the remaining strawberries and blueberries over cream mixture. Top with another third of the cream mixture and the remaining berries. Spread the remaining cream mixture on top. Use the reserved strawberries and blueberries to make a "flag" on top.
Did you pick up paper plates and plastic silverware? Do it! That's your clean-up strategy. Sprout's sells adult beverages too.
Now relax, admire the mighty mountains, and thank your lucky stars that you have the freedom to live your best life in the United States of America. Happy Fourth of July!
Fourth of July weekend is going to be busy here at Hacienda RV Resort. Don't be left out.
Reserve your spot now! Or call us at (575) 528-5800. We're looking forward to seeing you!