The Beach at Elephant Butte
Visiting Las Cruces for the scenic beauty of the desert landscape…the mountains, the mesas, the mighty rocks as red as sunsets? Gain a whole new perspective of the desert when you visit the beach at Elephant Butte.
Elephant Butte Lake State Park
Take a little day trip from your comfy retreat at Hacienda RV Resort and head north on I-25. The beach is just a little more than an hour away. There you'll find a 40,000 acre lake formed by a dam on the Rio Grande. Its sandy beaches are perfect for sunbathing and swimming! Elephant Butte is New Mexico's largest state park, where you're welcome to launch your kayak, sailboat, ski boat, and other watercraft.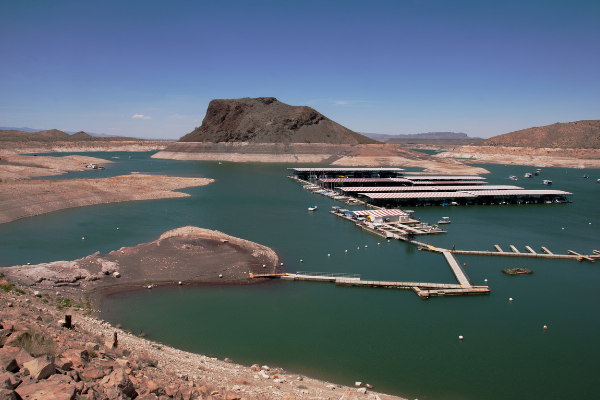 Hike the trails in the surrounding mountains and explore coves and islands on the eastern side of the lake. Take your binoculars and camera – you'll see plenty of birds and wildlife.
Fishing is great at Elephant Butte Lake too. The largest body of water in New Mexico is known for record-breaking walleye, catfish, crappie, white and black bass, and stripers. In June 2007, Field & Stream Magazine named Elephant Butte Lake as one of their '150 Best Fishing Spots.'
Visit Las Cruces
Bring your family, bring your doggies. When you visit Hacienda RV Resort in Las Cruces, you'll find out why New Mexico is called the Land of Enchantment. The gorgeous vistas of the nearby Organ Mountains, the Native American-inspired décor of our clubhouse, and the vast blue skies above are just part of the story.
Hospitality and convenience tell the rest of the tale. We're near downtown Las Cruces, historic Old Mesilla, and outdoor adventures just outside your RV. On Google reviews, recent guest Nancy D described her experience at Hacienda like this, "Beautiful RV Park! View was absolutely stunning. Very clean, staff exceptionally friendly!"
Experience the splendor of the desert when you reserve your stay at Hacienda RV Resort!