The Ghost Towns of Southern New Mexico
The American Southwest is the closest you can get to time travel (for now, at least). If you're looking for a taste of the Wild West on your RV vacation, you won't want to miss these ghost towns. Don't worry, the only thing spooky about them is how fascinating they are!
Ghost Towns of Southern New Mexico
Chloride
Only 20 people now live in Chloride, but it used to be well known as a thriving town. It all started when Harry Pye struck silver. Despite his attempts to hide his discovery, the word spread, and Chloride was founded. One might even say it was a bit of a party town, having nine saloons at one point. There were also multiple shops, hotels, and restaurants, making this a true Main Street destination.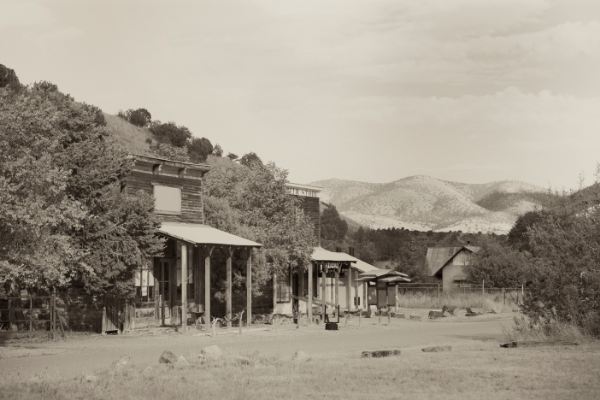 That all came crashing down in the Silver Panic of 1893, when silver prices plummeted. The resulting economic depression killed Chloride's vibrant businesses and drove people out of the town. Many of the buildings remain so you can enjoy their Old West style, but you won't be hearing hoots and hollers from the saloons any time soon!
Winston
Settled in 1881 by miners looking to escape the rowdy Chloride, the little town of Fairview lived up to its name. It was a quiet little community of families hoping to make their fortune in the nearby mines. There was a school, newspaper, playhouse and concert hall, and horse races for those who wanted some excitement. Fairview's top citizen was Frank H. Winston, a businessman who was known to give loans to struggling customers. The town was renamed to Winston after his death in 1929. By then, the town had already been hit hard by the Panic of 1893.
Today, Winston is a well-preserved but overall vacant Western town. The schoolhouse, post office, and Frank Winston's home and certain business properties are all still standing. The General Store remains open for business and is a delightful pitstop on your journey!
Lake Valley
You've heard of hitting a goldmine, and the Bridal Chamber Mine was definitely that for 19th-century Lake Valley miners…except it was 2.5 million ounces of silver ore so pure it could be shipped straight to the Mint. The miners' nearby settlement eventually became home to more than 4,000 people. Like the other towns on this list, the silver panic obliterated Lake Valley, which was further devastated by a fire.
Despite that rash of bad luck, Lake Valley recovered somewhat when manganese miners set up shop. But that too faded, and eventually the town became 100% vacant. You can still see some neat structures that survived the fire.
Kingston
If you're looking for a ghost town with a thrilling Wild West history, look no further than Kingston. Known for hosting infamous historical figures such as Butch Cassidy and Black Jack Ketchum, Kingston was filled with hotels, saloons, general stores, and yes, a brothel. It was a bit of a travelers' hub, with stage lines bringing in lots of business and three newspapers running the news. There was even an opera house for residents who wanted a bit more culture than they'd find in the 23 saloons.
Now, many of those structures have been converted into tourist destinations or private residences. You can see the sites where the pharmacy, saloons, casino, and silver smelter once operated. The schoolhouse is now a museum. Home to only 32 residents, Kingston may have lost its bustle but certainly not its charm.
Hillsboro
Hillsboro is a little less ghost-y than the other towns on this list. It's a popular tourist stop and home to about 100 people. Founded in 1877 upon the discovery of goldmines nearby, Hillsboro eventually became a wealthy town, generating more than $6 million in silver and gold. This prosperity allowed a lot of development, which we can see now in this charming old-town community.
Visitors can enjoy shopping, delicious food, art galleries, and various historical sites and museums. Some of the original Hillsboro buildings were damaged over time, but you can see the ruins. So if you'd like to blend your ghost town tour with a bit of entertainment, stop by Hillsboro!
All these ghost towns are just a short daytrip from Hacienda RV Resort in Las Cruces. Whether you'd like a taste of the Old West on your RV vacation or need a place to stay on your tour of ghost-town America, place these stops on your bucket list!
Affordable Hacienda RV Resort is the perfect base for exploring all that the Las Cruces, New Mexico area has to offer. Book your RV site now!