Traveling the I-10 through NM? Stay Over in Las Cruces at Hacienda RV
Want an unforgettable RV experience? Head down to Hacienda RV Resort, just off the I-10 (exit 140) in Las Cruces, New Mexico. The city is famous because it was the temporary home of Mexican general Pancho Villa and Billy the Kid.
Hacienda RV resort living provides next-level accommodations and breathtaking vistas. Enjoy FREE Cable, high speed Wi-Fi, outdoor fireplace, and patio with a large hot tub. Utilize our bright and clean laundry facilities, and a workout facility.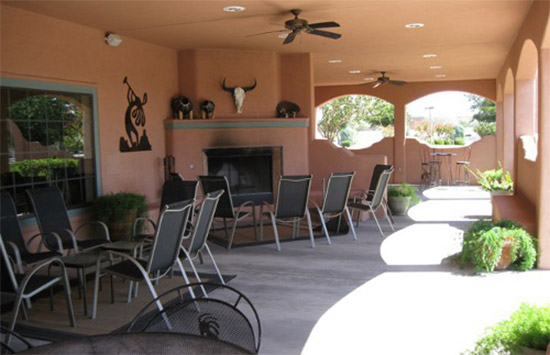 ---
Tour Old Mesilla for An Authentic Las Cruces, New Mexico Experience
Travel to the south of Las Cruces and you'll come to the village of Mesilla, the place where Billy the Kid was put on trial. He was sentenced to death, by hanging.
Today Old Mesilla has delightful boutique shops that sell unique crafts from the region. Many believe that the downtown plaza area is haunted by miners and other historical figures who lived and died in the area. If you're feeling brave join a walking tour of the downtown plaza.
Las Cruces Farmers and Crafts Market is a Must!
If you're in Las Cruces on a Saturday or Wednesday head over to the local Farmers and Crafts Market, held from sunrise until the afternoon. Leather goods, handmade jewelry, pottery, and local ceramics are popular, and when your stomach growls expect lots of indigenous and delicious food, all of which is farm fresh.
Walk (or sled) the White Sand Dunes at White Sands National Monument
Just 45 miles to the east of Las Cruces, travelers will discover the world's largest gypsum dune field. The monument stretches for 275 square miles, making it the largest gypsum dune field in the world. Enjoy guided walks such as the Sunset Stroll Nature Walk.
Give sand dune sledding a try! After stopping at the visitor center, where you can buy a new, or used sled, you'll drive on out to Dune Drive. There's a loop at the end of Dune Drive where you'll find steeper dunes.
Catch a Classic Western Film in the Oldest Movie Theatre in New Mexico
The Fountain Theatre is known as the oldest movie theatre in NM, and is a great example of period architecture. It was built in 1905 in the signature adobe style.
Book your stay now: www.haciendarv.com and discover the allure of Las Cruces, NM.